Just having received the 5 Mindfulness Trainings.
[...]
Is this Roland? Looking out the door at the end of the Wiston Retreat.
[...]
We had been dealing with some very sad family things and were taking time to walk in some very beautiful woods in the
[...]
In this case maybe colour.
[...]
At the end of a retreat at Wiston Lodge.
[...]
I spent some time this weekend moving across to Adobe Lightroom from Apple Aperture. I can't say it has been a pleasant experience
[...]
… but I kind of like this.
[...]
I feel comfortable close to Gandhi. Try the test yourself at the Political Compass Site. The same site shows just how little choice
[...]
At the end of last year I saw an exhibition of photographs at Edinburgh Central library. They were prints from negatives that had
[...]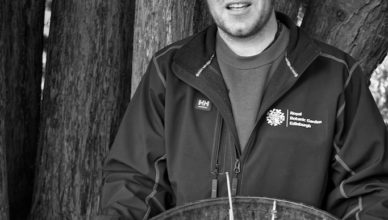 Edinburgh Allotmenteers is my new project for 2015. It builds on my 100 Portraits project that lead to the Botanics People exhibition. The
[...]
A couple of years ago I bought a £1 bear from Ikea and made him some clothes. Occasionally I like to do this
[...]
On Monday I noticed that the exhibition cabinets in the foyer of the main science building were empty with a note saying the
[...]
Rearranging my bookshelf I came across the folder with my negatives in and it fell open at a film my father took in
[...]
I walk past the Basil Spence building almost every day and have been trying to photograph it for my brother who has an
[...]
I think this might work better as a print. It needs examination up close.
[...]
I'm doing some clearing out and came across this shot of Faith from a few years ago which triggered more gratitude for eyes
[...]
Many of the subjects in my 100 Portraits Project were at my place of work (The Royal Botanic Garden Edinburgh) so I have
[...]
I grabbed this shot of Jane (who is one of my fellow Interbeing aspirants) at the end of our Wester Caputh retreat last
[...]
I turn 50 years at the end of February (if I haven't mentioned it enough times). As a gift to my self I'm
[...]
I can't remember whether I have seen it before or not but I was walking in the woods by the river Tay when
[...]
This is the Fourteenth of the Fourteen Mindfulness Trainings of the Order of Interbeing: Lay members may not be celibate whereas monastics members are
[...]
This is the Thirteenth of the Fourteen Mindfulness Trainings of the Order of Interbeing: Aware of the suffering caused by exploitation, social injustice, stealing,
[...]